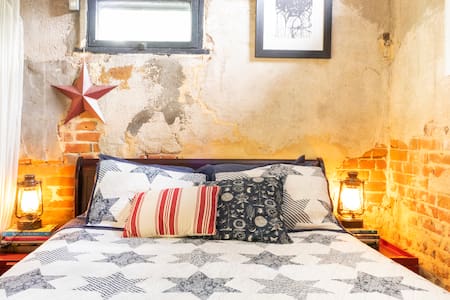 PLUS
Cijela gostinjska kuća · 3 gosta · 1 krevet · 1 kupatilo
Historic Carriage House in Denver's Oldest Neighborhood
Prepare to be charmed by the exposed brickwork and quirky decor of this lovely historic home that once sheltered horses in the late 1800s. It's been featured in Architectural Digest online as Colorado's most unique and beautiful Airbnb property.
Šta kažu gosti:
"10 наших од 10 би остало опет. Заправо, ако је икад на продају, само ћемо се уселити. Мицк је очито потрошио пуно времена, новца и труда курирајући сваки детаљ унутар овог места. То је попут лукавог и беспрекорног винтаге америчког бијега. Планирали смо да уђемо у Денвер са неколико додатних сати које смо имали поподне када смо се пријавили (само једна ноћ одмора), али смо одлучили да останемо унутра и уживамо у овом месту и посматрамо како снег пада кроз прозор. Начин на који су заузели прилично малу количину простора и поделили сваку "собу" био је апсолутно генијалан и урађен на начин који се осећао природним. У почетку смо супруг и ја мислили да је мало скупо за само једну ноћ пре него што смо одлетјели кући, али подсетили смо се да је то посластица. Без жаљења, вреди сваког пенија. Кухиња је била добро уређена и нудила је много цијењених добара од домаћина и претходних путника. Под је био загрејан и здрав. Интернет је био брз. Мицк нам је понудио и употребу хидромасажне каде иза главне куће до које нисмо стигли, али сигурно ћемо се вратити кад се вратимо!"
This is a completely remodeled, upscale apartment only 5 minutes from downtown. It has: - 1,300 Sq Ft! - Two big bedrooms both with King Beds! - A new kitchen with stainless steel appliances and everything you would need to feel at home! - A 65" Curved LED TV! - Office space with Laser Printer and office supplies - Full size front load laundry - Big fenced in yard with table and chairs to relax. -Off street parking -Backyard Chickens
This private suite includes living room, bedroom, bathroom and kitchenette - the entire second floor of this magnificent award-winning historic home built in 1885 and restored in 2004. All the modern conveniences plus old-world charm and warmth. LGTB friendly. Denver Short Term Rental License Number 2020-RENEW-0003289.